Ski Dubai gives numerous adventures to entertain children and adults alike amidst a winter setting. It is one of the largest indoor Snow Park in the world that is designed to give exceptional experience of fun. It has covered 22,500 sq. meter indoor Ski area that can store 6000 tons of snow with different pleasing rides to keep the visitors entertained.
This Snow Park is home to interesting Chairlift ride, adrenaline shooting Zipline, Tube Slides, and a 10 feet ramp for jumping, giant ball running, Snowboarding, Skiing, and many more thrilling activities.
The centre of attraction of Ski Dubai is that you can meet the snow penguins up close and personal as they are dedicated to teaching the snow park guest about the nature of king penguins and Gentoo. The immense amount of entertainment will make you forget to check the Ski Dubai ticket price as you will be surrounded by the thrilling experience.
You can witness the March of the Penguin, and several times in a day penguin charm the visitors and many trained professionals are there to organise ski classes. You can fully enjoy your day by indulging yourself in so many thrilling activities, and it also has restaurants and cafeteria that complete your fun perfectly.
Your Guide to Ski Dubai Snow Park You can get information about Ski Dubai Offers, Timing, Location etc.
THE FINEST TIME TO VISIT SKI DUBAI 
You can visit all around the year as it is an indoor snow park that is a paradise for snow lovers and adventure seekers. It opens for all 7 days in a week, but weekends and holidays attract more visitors to enjoy the snow. The period between November to February is considered as the high time to visit this place.
UTILITY INFORMATION ABOUT SKI DUBAI
SKI DUBAI Location:
The location of Ski Dubai is the Mall of Emirates, Sheikh Zayed Road, United Arab Emirates
SKI DUBAI Timings:
It opens for 7 days a week
| | |
| --- | --- |
| Days | Timings |
| Sunday  – Wednesday | 10 AM to 11 PM |
| Thursday | 10 AM to 12 Midnight |
| Friday – Sunday | 09 AM to 11 PM |
Ski Dubai Ticket Price
Ski Dubai ticket price in dirhams and rupees for Customers in UAE and India.
Slope Packages
2 Hour
Slope Pass
Full Day
Slope Pass
SkiFly
Slope
Snow
Premium
Snow
Plus
Price
AED 210 /
Rs 4067
AED 310 /
Rs 6003
AED 305 /
Rs 5906
AED 490 /
Rs 9488
AED 340 /
Rs 6585
Snow Park Packages
Snow
Park
Snow
Classic
SkiFly Snow
Classic
Snow
Premium
Snow
Plus
Price
AED 190 /
Rs 3678
AED 265 /
Rs 5132
AED 305 /
Rs 5906
AED 490 /
Rs 9489
AED 340 /
Rs 6584
Snow Penguins Packages
Peng Friend
Encounter
Exclusive
Peng Friend
Ultimate
Peng Friend
Swimming with the Penguin
Snow Premium Penguin
Price
AED 190 /
Rs 3678
AED 265
Rs 5132
AED 305
Rs 5906
AED 490 /
Rs 9489
AED 340 /
If you have a question Where To Buy Ski Dubai Tickets so don't panic you are on right place we have a best solution for your question
Where To Buy Ski Dubai Tickets?
If you are planning to visit Ski Dubai one of the most important questions which you must be thinking is from where I can get tickets at the lowest price, right?
I would say but the ticket in advance from online websites which offer the lowest price such as GetYourGuide.com or Klook.com.
Whether you are visiting Ski Dubai Resort or any other tourist places in Dubai like Burj Khalifa, Dubai Miracle Garden, Global Village Dubai, book your tickets online in advanced.
There are 2 benefits of booking tickets online in advance:
You can get tickets online at a discounted rate as compared to offline.
You will be saved from the embarrassment of tickets sold out, in case you plan to book tickets on the same day.
There are rules which you need to follow before entering the Slope, Snow Park, and Snow Penguins.
Not Allowed: Children under two years of age
2 – 8 Years: Should enter under adult supervision
9 – 12: Should enter if a guardian is present within Mall of the Emirates
Below 21 Years: Need to submit the form signed by a guardian
ENJOY THE SKI DUBAI WITH FUN ACTIVITIES
Snow Penguins
Ever dream about interacting with Penguin then Ski Dubai is the place for you.
Watch the March of Snow Penguin that charm everyone because it will be a lovely opportunity to see such things in front of your eyes and experience the amazement vibes.
This is the place to visit with your kids and introduce them to visit Gentoo and King Penguins at Ski Dubai.
The pampered penguins enjoy a private pool, a top deck area with rocks, and a private holding area.
Slope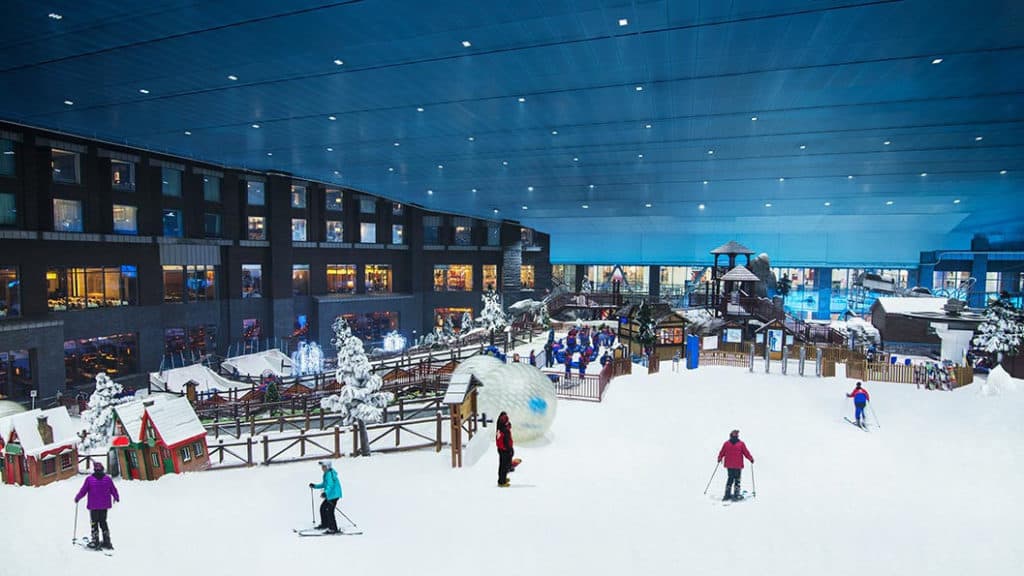 Get yourself register to the Ski School and get training of Skiing by professional.
If you are a pro, you can enjoy the slopes by yourself and if you don't know you can take lessons by joining the Ski School.
If you think taking up class will be a boring think again because you will be trained by one of the best Ski professionals in the world.
Experience the Ski Slopes, which is the longest slopes in the Middle East that take you through snow-laden runways and path.
Snow Park
Once you have enjoyed the slopes you can now head to snow park and you can double the fun by flying at iFly Dubai indoor skydiving for 2 minutes.
Enjoy the Snow Bullet, the world's largest indoor zip line that allows you to fly meters above ground with a fascinating speed.
SOME TIPS FOR ENJOYING SKI DUBAI 
The temperature of Ski Dubai is sub-zero, and to enjoy this wonderful land, you need to spend a couple of hours, then make your that you can adjust yourself with such temperature.
Dress properly for such conditions like Jacket, Snow boots, gloves, and cap. You must cover yourself properly before entering the premises.
The age group of children between 3 to 12 years should come with adults.
Ski Dubai has become the most desirable place for visitors as it provides many dimensions of fun and entertainment. People love to explore this place with family and friends because this place is fully packed with so much adventure that keeps you engage in thrilling activity that boosts your enthusiasm. Everyone likes to get the fun vibes, and this place is the ideal choice because it fulfils every kind of preference regarding this kind of fun. It will never fail to amaze you because you can enjoy here the variety of fun and thrill in many ways.