Dubai is known for giving surprises with many attractions, but Dubai Miracle Garden is a floral wonderland that is the iconic place of natural vibes with beauty. This Magnificent land cover 72,000 sq. ft.
This miniature world of floral wonder included many attractions that will give wow factors. It offers more than 50 million flowers that come with luxuriousness, and you can see the replication of some amazing structures such as Burj Khalifa, arcs, huts, tombs, houses, and many more structural exhibits all covered with colorful flowers.
It gives you immense pleasant vibes from quirky layouts, heart, and butterfly-shaped passages. If we talk about some most attractive things that are notable in this flower Garden Dubai, then there are many things like Emirates A380, Lost Paradise, Cabanas, Floral Clock, 3D Floral design, Lake park, and umbrella passage. These are some noteworthy things for visitors, and you can get information about miracle garden timing, Miracle Garden Tickets
About Dubai Miracle Garden
Guinness World Records of Miracle Garden
The Dubai Miracle Garden has won 3 Guinness records:
Largest Floral Installation in 2016
Tallest Topiary Art in 2018
World's Largest Topiary Structure in 2019
This is one of the unique places that you won't get to see anywhere in the world.
So, if you are going to Dubai make sure that you visit this place to make your trip more memorable.
The garden has a lot of attraction such as Emirates A380, Mickey Mouse, Teddy Bear, and more.
Even after so much demand for this attraction, the Dubai Miracle Garden tickets price is kept reasonable.
MIRACLE GARDEN IS NOT ONLY ABOUT SIGHTSEEING
This land of natural beauty has so many things to do while experiencing all of this with your eyes. You can relax at cabanas dine at lavish restaurants that offer amazing international foods. The Butterfly Garden is the center of attraction where you can click photographs and have some delicious foods at food courts.
Aerial View of Dubai Miracle Garden
IMPORTANT INFORMATION ABOUT DUBAI MIRACLE GARDEN
Where Is Dubai Miracle Garden Located?
It is located at Al Barsha South 3- Dubai United Emirates
How To Get To Miracle Garden?
You can reach the Dubai Miracle Garden via Metro or Taxi.
By Metro:
If you are travelling by metro you need to get down at Mall of the Emirates metro station (Red Line) and from there you can either take a bus or cab which goes from the MOE to the garden in 20 – 30 minutes.
By Taxi:
You can take a taxi from your place to the miracle garden directly or you can get down at Mall of the Emirates and take a bus from there.
Best Time To Visit Miracle Garden
If we talk about the perfect time to visit this beautiful place, then November to March is the ideal timing. It opens at correct 10.00 am, and it would be better to reach there in the morning at the time of entry because you will not have to face the crowd, and you can capture photographs. So the morning is the perfect miracle Garden timing to explore calmly.
Miracle Garden Timings:
Time: This Garden is operational only in winter from November to Mid-day.
Sunday to Thursday– Morning 9.00 am to night 9.00 pm
Friday to Saturday– Morning 9.00 am to night 11.00 pm
Miracle Garden Tickets
Price: If we talk about the Miracle Garden ticket price then it varies for the different age groups
Children: Between 2 and 12 years – 40 AED per person
Adults: 12 years and above- 50 AED per person
Miracle Garden Entry Fee
Entry fee for Miracle Garden in Dubai is DH 40 (INR 767 approx.) for adults and DH 30 (INR 575 approx.) for children above age 12. However, for kids aged below age 2, the entry ticket price for Dubai Miracle Garden is none.
Popular Attractions in Garden
There are many attractions to see in the garden but I have listed the best of them which you should definitely see during your visit.
Emirates A380
Mickey Mouse
Donald Duck
Big Teddy Bear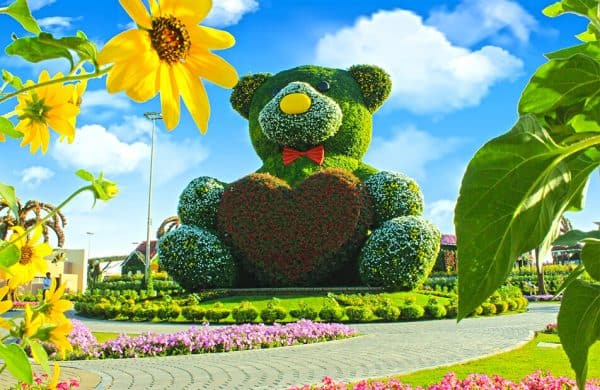 Disney Avenue
Lost Paradise
Hill Top
Cabanas
Lake Park
Butterfly Passage
Hearts Passage
Floral Clock
Umbrella Passage
3D Floral Designs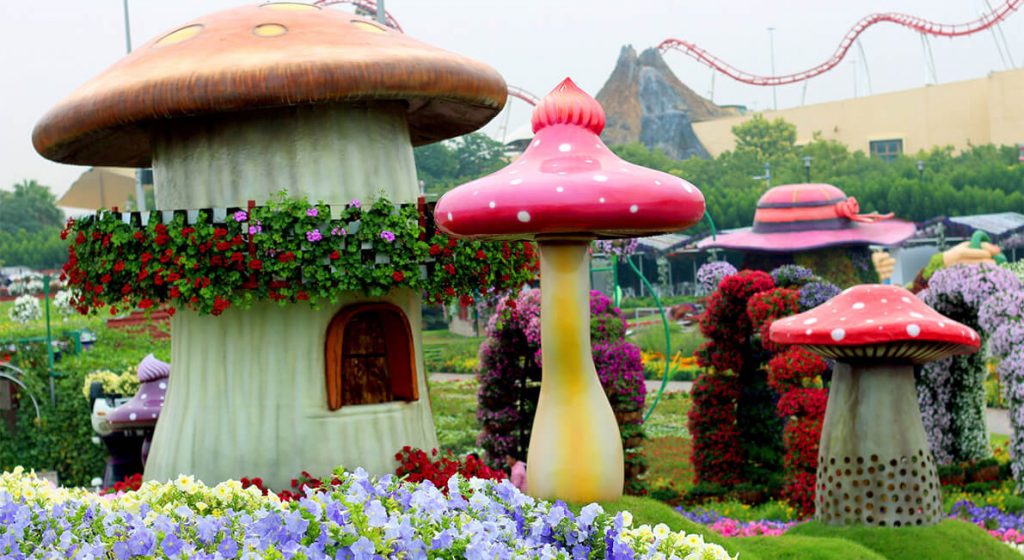 COMPLETE YOUR DUBAI MIRACLE GARDEN TRIP BY VISITING SOME MUST-VISIT PLACES
Sharjah Museum of Islamic Civilization
Visit here to discover thousands of ancient Islamic artifacts, this place liable to grow your knowledge about Islamic discoveries, cultures, and faith.
Sharjah Art Museum
Sharjah Art Museum is home to permanent paintings and other collections of prominent things. Visiting this museum is one of the best things to see in Dubai as it comes up with great artistic vibes with modern era technology.
KM Trading Shopping Center
This is the stop of everything that you need for your shopping time. It is a well-known place for clothes, electronic items, and leather items. You can get you shopping as well as get to see the mesmerizing view of this place.
Dubai Miracle Garden is a unique beauty that offers every element that you need to explore this floral wonderland. It is a combination of sightseeing of natural beauty, dining with delicious food station, relaxation, and photography. This Miracle Garden is one of its kind that offers everything for every age of the group. Exploring this Miracle Garden adds an unforgettable experience in your life.