Global Village is full of entertainment features and fun events in Dubai. This place attracts travellers and visitors from all over the world to experience the top-class entertainment. The time of hosting the events, weather in Dubai is pleasing as well as comfortable.
This place has got international success as it offers attractions that are worth seeing, and as well as firework is an eye-catching factor. You will find many things to explore here with enthusiasm because this place is full of interesting things that mesmerise everyone. Global Village Dubai will never fail to surprise is anyone as it gets the gives thrilling events, and finding a place just like that is not an easy task. It has amazement in every fun activity that will blow your mind.
The exquisite fact is, multiple nations come together to set up their pavilion, which gives a complete experience of shopping arenas, food, culture, and many more. One pavilion is designated for every nation where it showcases some interesting and unique things for the joy and excitement of visitors.
Numerous retail outlets set up shop here, and it helps visitors to grab an array of products and specialist on an international level. Global Village is a place that is fully packed with fun activities for adults, as well as for kids such as rides and theatres. We can easily find the level of popularity by the fact that people especially plan a vacation of Dubai around the time this festival. You will never turn back empty-handed because this Global Village gives you a lifetime worth of memories to cherish.
About Global Village Dubai 2019 – 2020
Where is Global Village Dubai Located?
The Global Village Dubai is located at Exit 37, Sheikh Mohammed Bin Zayed Road and Emirates Road, Dubai, United Arab Emirates.
Global Village Dubai Map (2019 – 2020)
Location: This adventurous place is located at Sheikh Mohammed Bin Zayed Road in Dubai land, East of Arabian Ranches, Dubai, United Arab Emirates.
You can follow this map to find all the information about pavilions, restaurants, events, shopping, shows, and more.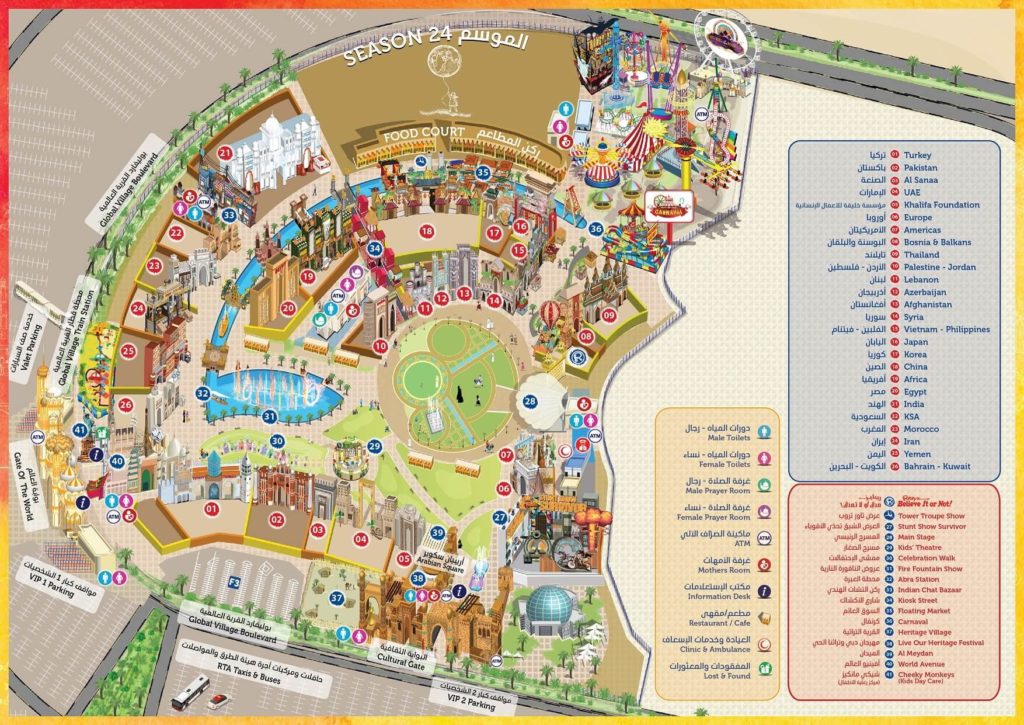 Dubai Global Village Timings
Global Village's Season runs through October to April with varying dates.
Saturday to Wednesday- 4.00 pm to 12.00 am
Thursday to Friday – 4.00 pm to 1.00 am
Global Village Dubai Tickets Price
Price: When we talk about the Global Village ticket price, then you get to know that only 15 Dirhams is the cost for a ticket to the event.
The Entry is free for children below the age of 3 and seniors above the age of 65.
| | |
| --- | --- |
| Tickets / Passes | Price |
| Entrance Ticket | AED 15 |
| Wonder Pass | AED 100 |
Where to Buy Tickets for Global Village Dubai?
Opening Date: 29th October 2019
Closing Date:  04th April 2020
Ticket Price:– AED 15
Please note that Monday is designated for families with kids and ladies only.
EXPLORE THE GLOBAL VILLAGE DUBAI ON YOUR PREFERENCES
If you are keen to explore this Global Village, then choose your trip from the type of event that you will like to see in this village. You can choose deliberately Global Village timing to enjoy this iconic destination. Thursday and Friday are the perfect days for the fireworks display, choose Monday for a family outing, and if you like to find the least rush at the events, then choose any other day of the week.
Events & Concerts
This 24th season of Global Village offers the best entertainment in Dubai by hosting over 20,000 shows in a period of 5 months.
Stage Shows
Kid's Theatre Shows
Street Entertainment
Circus Circus
Stunt Show Survivor
Concerts
Shopping
As said above, over 7 million people visited the place and enjoyed the shopping experience through 26 pavilions and 3500+ shops. The important feature of these pavilions is to make visitors aware of different cultural experiences of various countries.
Dining
During your visit to Global Village in Dubai, you get an option to discover cuisines from all over the world such as Emirati, Thai Mexican, Japanese, and more.
Food Trolleys
Restaurants
Kiosks
Delicious Concepts
Cafes
If you are looking for family FunFair park in Global Village then it is the place for you. It features a lot of rides and attractions for the family and visitors of all ages.
Thrill Rides
Skill Games
Family Rides
Kids Rides
Arcade Zone
Experience Zone
Other Special Attractions
Ripley's Believe It or Not Museum
This is newly added attraction to the 24th season of Global Village in Dubai.
Global Village Fireworks
If you are visiting the Global Village on UAE National Day make sure that you don't miss the spectacular fireworks show.
SOME POINTS FOR VISITING THE GLOBAL VILLAGE
There are some points that you need to keep in mind before visiting this destination.
It is an international event that is attended by families, children, youngsters, and seniors, so you should wear modest clothes.
Parents need to take care of their children while exploring this destination.
Kindly visit on Thursday or Friday so that you can enjoy the firework show.
You will get every kind of food and beverages inside the village, and you don;t need to carry from outside.
This place is known as one of the most admirable places to discover in Dubai because that gives you an unforgettable experience that grabs your heart corner beautifully. People like to add this place in their list of adventurous places to visit on the Dubai trip. Unquestionably this place comes with every element of fun and entertainment at the international level that makes this place a worth visit place.